Advertisements - Advertising at The News And Times - advertising-newsandtimes.com | WE CONNECT!
Nueva York planea reforzar la seguridad alrededor del desfile del Día de Acción de Gracias de Macy's tras los recientes tiroteos masivos en diversas partes del país, informó el miércoles la policía, que enfatizó no se tiene información de que el famoso evento esté bajo una amenaza creíble.
La festiva tradición, que atrae a multitudes de participantes y espectadores, se llevará a cabo este año dos días después de que seis personas murieran baleadas en un Walmart en Virginia y cuatro días después de otro tiroteo en el que murieron cinco personas en un club nocturno gay en Colorado Springs.
También durante el fin de semana, un hombre que presuntamente amenazó con atacar una sinagoga fue arrestado en la estación Penn de Nueva York con un cuchillo, un pasamontañas, un parche con la svástica en el brazo y un asociado, indicaron las autoridades.
Ante estos eventos, la policía "desplegará recursos adicionales para garantizar que las festividades en toda la ciudad sean seguras para todos", dijo la jefa de contraterrorismo del Departamento de Policía de Nueva York, Martine Matersso, en conferencia de prensa mientras inflaban los distintivos globos gigantes del desfile. Las autoridades no tenían indicios de "alguna amenaza activa, creíble o específica" para el evento, agregó.
A estas alturas, las medidas de seguridad son casi tan conocidas como el mismo desfile. Incluyen equipos de armas pesadas, perros que detectan explosivos, un escuadrón antibombas, sensores radiológicos y químicos, detección de drones, camiones cargados de arena, vehículos bloqueadores y cámaras adicionales en la ruta.
El director general de Macy's, Jeff Gennette, prometió que el desfile será "más grande y mejor que nunca antes", tanto así que iniciará a las 8:45 de la mañana en lugar de a las 9 para acomodar todos los globos, carros alegóricos, bandas de marcha, cantantes, porristas, payasos, elencos de Broadway, las Radio City Rockettes y, por supuesto, Santa Claus.
¡Conéctate con la Voz de América! Suscríbete a nuestro canal de YouTube y activa las notificaciones, o bien, síguenos en las redes sociales: Facebook, Twitter e Instagram.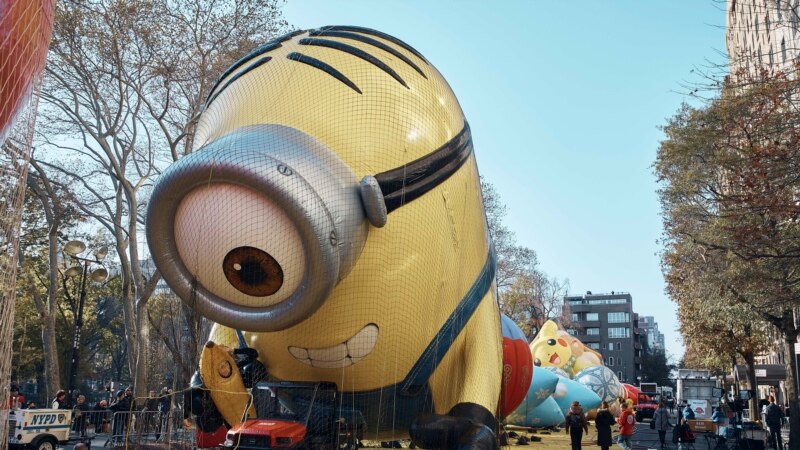 Voice of America
Advertisements - Advertising at The News And Times - advertising-newsandtimes.com | WE CONNECT!