Advertisements - Advertising at The News And Times - advertising-newsandtimes.com | WE CONNECT!
Los diálogos de paz entre el Gobierno de Colombia con el Ejército de Liberación Nacional (ELN), comenzarán de manera formal este lunes en Caracas, en una apuesta del presidente colombiano Gustavo Petro que busca una salida negociada al conflicto armado en la nación sudamericana con su llamada "paz total".
En un comunicado conjunto, el Alto Comisionado para la Paz de Colombia, Danilo Rueda, y el Jefe de la Delegación del Ejército de Liberación Nacional (ELN), Pablo Beltrán, confirmaron en las últimas horas el reinicio oficial de este proceso, que empezó en el gobierno del presidente Juan Manuel Santos (2010-2018) y que fue interrumpido en el mandato del expresidente Iván Duque (2018-2022) luego de un atentado contra una escuela de policía en Bogotá.
Aunque los nombres de la delegación oficial colombiana que intervendrá en la Mesa, se darán a conocer de manera oficial en el evento convocado en Caracas, el presidente Gustavo Petro ya dio a conocer a José Félix Lafaurie, un dirigente gremial ganadero cercano al expresidente Álvaro Uribe y fuerte opositor al gobierno de Petro, como parte del equipo negociador.
Lafaurie, es el esposo de la senadora María Fernanda Cabal, del partido de derecha Centro Democrático, una de las voces opositoras más acérrimas de Petro, quien se mostró en desacuerdo con los diálogos con el ELN.
"No creo que los diálogos con el ELN lleguen a un buen fin, he sido crítica de los diálogos con este grupo terrorista. Entonces si José Félix Lafaurie como dirigente gremial tiene el aval de su gremio (ganadero) y quiere acompañar unas negociaciones en las que yo creo que debería ir como observador y no negociador, es su decisión, la mía continúa siendo oposición porque al ELN no le creo", dijo Cabal luego de conocer que Lafaurie aceptará la invitación de Petro de formar parte de la mesa de diálogo.
Otro de los nombres que se dio a conocer y que hará parte de la delegación oficial que enviará Petro a Caracas será Otty Patiño, un antiguo compañero del mandatario en el grupo armado M-19.
Por su parte, la delegación oficial del ELN, estará conformada por Eliécer Herlinto Chamorro, conocido con el alias "Antonio García", líder de este grupo armado desde el año 2021. También estará Pablo Beltrán, segundo líder de esa organización y Aureliano Carbonell.
Otros de los nombres del ELN que estarán en la mesa serán: Bernardo Téllez, Gustavo Martínez, Consuelo Tapias, Silvana Guerrero, Isabel Torres, Óscar Serrano, Vivian Henao, Ricardo Pérez, Cataleya Jiménez, Eduin Restrepo, Américo Trespalacios, Manuela Márquez, Mauricio Iguarán y Simón Babón, a quienes la Fiscalía Nacional de Colombia les levantó sus órdenes de captura el pasado 17 de noviembre.
Con el inicio de los diálogos de manera oficial en Venezuela, nación clave en las negociaciones, se espera seguir una agenda de seis puntos acordada durante el gobierno de Juan Manuel Santos y con la que se busca poner fin al conflicto que se tiene con el grupo armado desde los año 60, donde según el mismo presidente Gustavo Petro, en territorio venezolano están varios de los líderes del ELN, que tienen fuerte presencia armada en el país vecino.
El acuerdo de paz con las FARC que se negoció durante casi cuatro años en Cuba y se firmó en 2016 puso fin a la participación de ese grupo en el conflicto.
Sin embargo, los combates entre el ELN, los disidentes de las FARC que rechazan el acuerdo, las bandas criminales y las Fuerzas Militares continúan en varias regiones selváticas y montañosas de Colombia estratégicas para el narcotráfico y la minería ilegal.
¡Conéctate con la Voz de América! Suscríbete a nuestro canal de YouTube y activa las notificaciones, o bien, síguenos en las redes sociales: Facebook, Twitter e Instagram.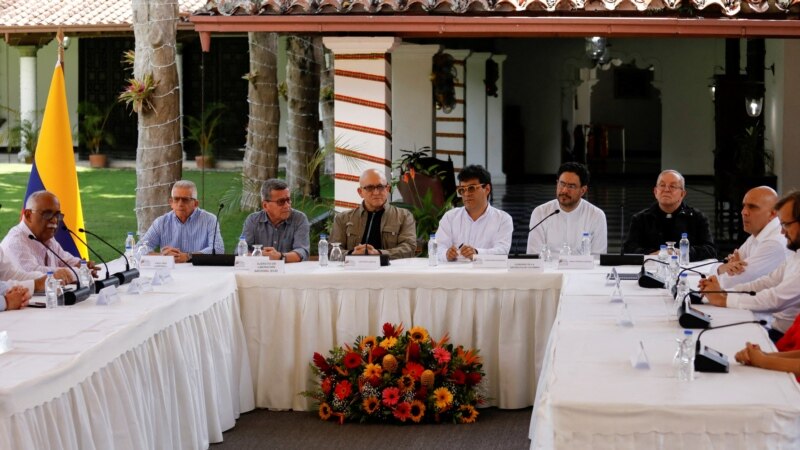 Voice of America
Advertisements - Advertising at The News And Times - advertising-newsandtimes.com | WE CONNECT!