Advertisements - Advertising at The News And Times - advertising-newsandtimes.com | WE CONNECT!
El presidente de Venezuela Nicolás Maduro y el enviado presidencial especial de Estados Unidos para el Clima, John Kerry, se saludaron brevemente el martes durante la 27 Conferencia de las Naciones Unidas sobre el Cambio Climático (COP27) en Egipto.
El periodista Joshua Goodman, de la agencia de noticias Associated Press, publicó en sus redes sociales un video del breve encuentro, en el Kerry y Maduro estrecharon sus manos e hicieron comentarios por intermedio de una traductora.
"¿Cómo estás?", pregunta Maduro a Kerry. Al final, se escucha que Maduro le desea "¡suerte, suerte! al funcionario estadounidense.
También el martes, Maduro se encontró en el evento en Egipto con el primer ministro de Portugal  António Costa, Primer Ministro de Portugal.
"Siempre lo veo en televisión", dijo Maduro a Costa. "Ahora ya estamos en vivo", respondió Costa al tiempo que ambos se rieron. "Cuando quiera nos visita, tenemos muchos portugueses", le dijo Maduro a Costa y le pidió que "cuidara a los portugueses".
Maduro sostuvo un encuentro similar el lunes con el presidente de Francia, Emmanuel Macron, que duró un minuto y medio y ambos se vieron sonrientes.
Un video divulgado por el canal del Estado Venezolana de Televisión muestra el momento en el que los mandatarios se encontraron en un pasillo del Centro Internacional de Convenciones de Sharm el-Sheij, donde se desarrollaba el evento, se saludaron y estrecharon las manos.
"¿Cuándo nos visita?", dijo Maduro, tras estrechar la mano a Macron.
"Estaré encantado de que podamos hablar más tiempo, que podamos emprender un trabajo bilateral útil para la región", dijo Macron a Maduro, de acuerdo a imágenes entregada a medios por la presidencia venezolana.  
¡Conéctate con la Voz de América! Suscríbete a nuestro canal de YouTube y activa las notificaciones, o bien, síguenos en las redes sociales: Facebook, Twitter e Instagram.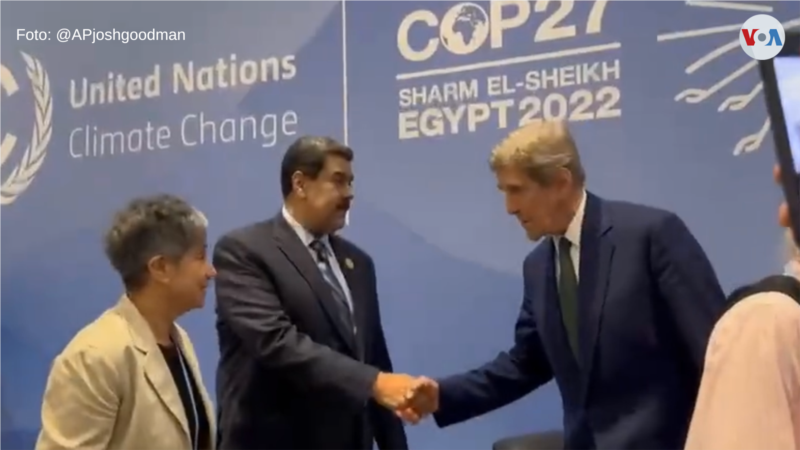 Voice of America
Advertisements - Advertising at The News And Times - advertising-newsandtimes.com | WE CONNECT!